3DDesign High Flow Intake System for BMW M2 (2015-2018, F87)
Save

Liquid error (product-badge line 32): Computation results to '-Infinity'

%
The 3D Design HIGH FLOW INTAKE is a performance air intake system that was engineered with a focus on improving power output in the mid range RPM for increased engine response and real world drivability.

Performance
:Gain Horsepower
:Gain Torque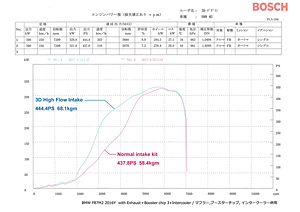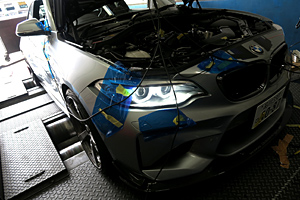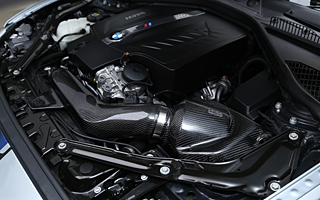 Reference Dyno result M2/N55(YM2016)... along with Booster Chip, intercooler, and exhaust.
Larger capacity
-This system induction box and intake piping have a larger capacity over the original BMW intake system. The 30% gain in volume will ensure a smooth and stable airflow to the engine.
-Repeated testing on the street, race track, and dyno have allowed us to verify the response of the intake to real-world driving situations, and verify that the intake system responds well to the 3D Design ECU tune, intercooler, and exhaust system.
-Using this air intake in concert with the 3D Design tune, intercooler, and exhaust system enables the BMW enthusiast to approach their car engine as a complete system and optimize performance of their power plant as a whole.

BMC filter
Performance of air filter is a critical factor when designing an air intake system. 3D Design air intakes use BMC air filters for best performance and easy serviceability. BMC has a wealth of experience in providing top quality air filters for motorsport, and is available from any performance parts distributor in the world so you can always service your air intake system.
Enclosed intake box
Extensive testing have driven us to select an air box type of intake system. The 3D Design intake systems fully enclose the air filter to ensure the coolest possible air charge, and are carefully routed to the front of the car to create a ram-air effect

Flawless surface, inside and out
-Typical carbon manufacturing results in one smooth (outside) surface and one rough (inside) surface. 3D Design innovative manufacturing approach has enabled us to create a smooth surface finish on not only the outside of the intake piping, but also the inside. Our ability to create a smooth inside surface allows for laminar airflow throughout the intake tract, creating the best possible intake air for the engine.

WHAT'S INCLUDED
1 x 3DDesign Carbon Fibre Intake System
COMPATIBLE MODELS